Dear Gardeners, Storytellers, Readers, and Friends,
Welcome to "Spider Secrets," my monthly blog about gardens, gardening, and storytelling, with stories about mythic and modern gardens and about my own garden on San Francisco's historic Russian Hill. We'll also visit my favorite private and public gardens and green schoolyards. Enjoy downloads of nature stories from my five audio storybooks with music to delight all ages. I'll also review books on gardening and nature and propose garden projects to enchant you.
A Rave!!! for Jennifer Jewell's The Earth in Her Hands
In garden blogger and writer Jennifer Jewell's stirring new book, The Earth in Her Hands: 75 Extraordinary Women Working in the World of Plants, she introduces seventy-five innovative women gardeners at their work. I found the book impossible to put down, until I had 'met' each of the gardeners.
At this time. when nature is under siege and women's rights are threatened, outrage can consume our energy. What we find in this book instead is a chorus of female voices energizing us to work collaboratively on behalf of plants, people, and nature itself. Jewell's gardeners map many possible paths into garden work, from landscape design, horticulture, seed science, garden photography, public garden administration, and floral design, to community gardens and social justice advocacy.
Nature's inspiring presence infuses each story. What better gift for women today who desire careers that will nourish them and benefit nature, while adding more beauty, health, and happiness to the world.
At a deeper level, Jewell's book challenges all women to "learn to lead in love." After all, in story after story since earliest times, it is Mother Nature who creates and tends the gardens of Heaven and Earth, gardens that can feed us all, if we learn to lead in love.
In tribute to Jennifer Jewell and to the women gardeners in her book, please enjoy a free download of a Scandinavian garden myth, "Iduna's Magic Apple," from my audio storybook, Heaven is a Garden in the Heart. (Did you know that I am a Voting Member of the Grammys?)
______________________________________
Find more lively garden stories from around the world, to read aloud or read alone, in my illustrated storybook, Spider Grandmother's Web of Wonders, which also features dazzling flower photographs by Ted P. Kipping.
"A treasure trove for the ages."–Kitty Margolis, Jazz singer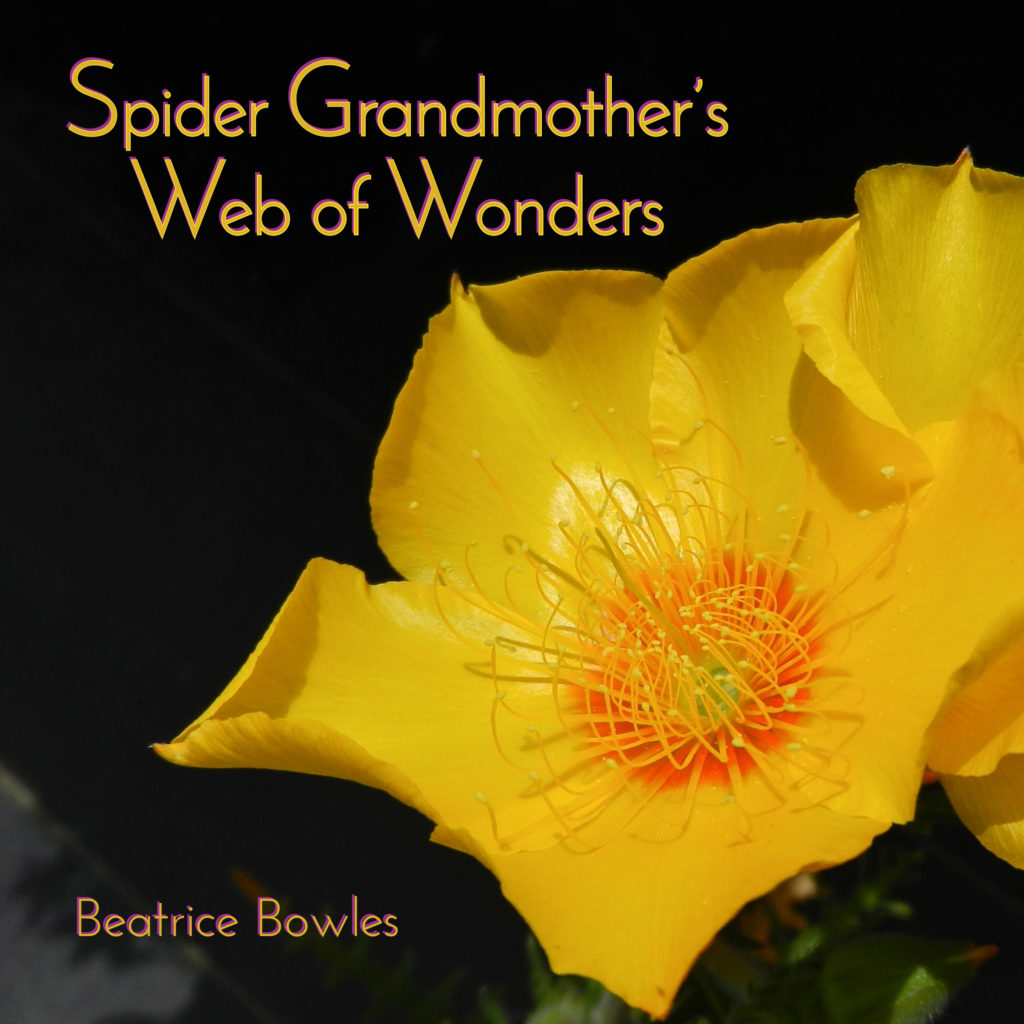 The book is available in bookstores everywhere and at the usual online sites. Or please visit my website: www/beatricebowles.com
______________________________________
Finally: A Tribute to Justice Ruth Bader Ginsburg…
"No one can feel free from danger and destruction until the many torn threads of civilization are bound together again." –Ruth Bader Ginsburg, age 13, in her synagogue's newsletter. (From Maria Popova's BrainPickings)
To reweave those "torn threads of civilization," we must begin with our wealth of stories about nature and the challenges of human nature. For while nature has been transformed in many ways, for good or ill, human nature remains unchanged. For that reason, our traditional stories provide a powerful and still untapped resource for reweaving our fragmented world.
My awareness of the mysterious power of stories began when I was small. On a walk around my aunt's rampant garden—where I garden now—she said that Mother Nature creates everything. That was not the garden story that I heard in church and, although deeply curious, I soon learned to not ask.
Now as a storyteller, I do ask! I gather, tell, and record traditional stories about nature and gardens from around the world. Beneath their differences, striking likenesses connect the stories. What if we grew up knowing that there isn't only one right story, nor one right culture, gender, or race? What if we stopped warring against nature and against each other and defended nature together?
My hope is that our deep-rooted, still lively stories will serve as resources in reweaving those "threads of civilization." As a girl of thirteen, Ruth Bader Ginsburg knew what we needed for survival.