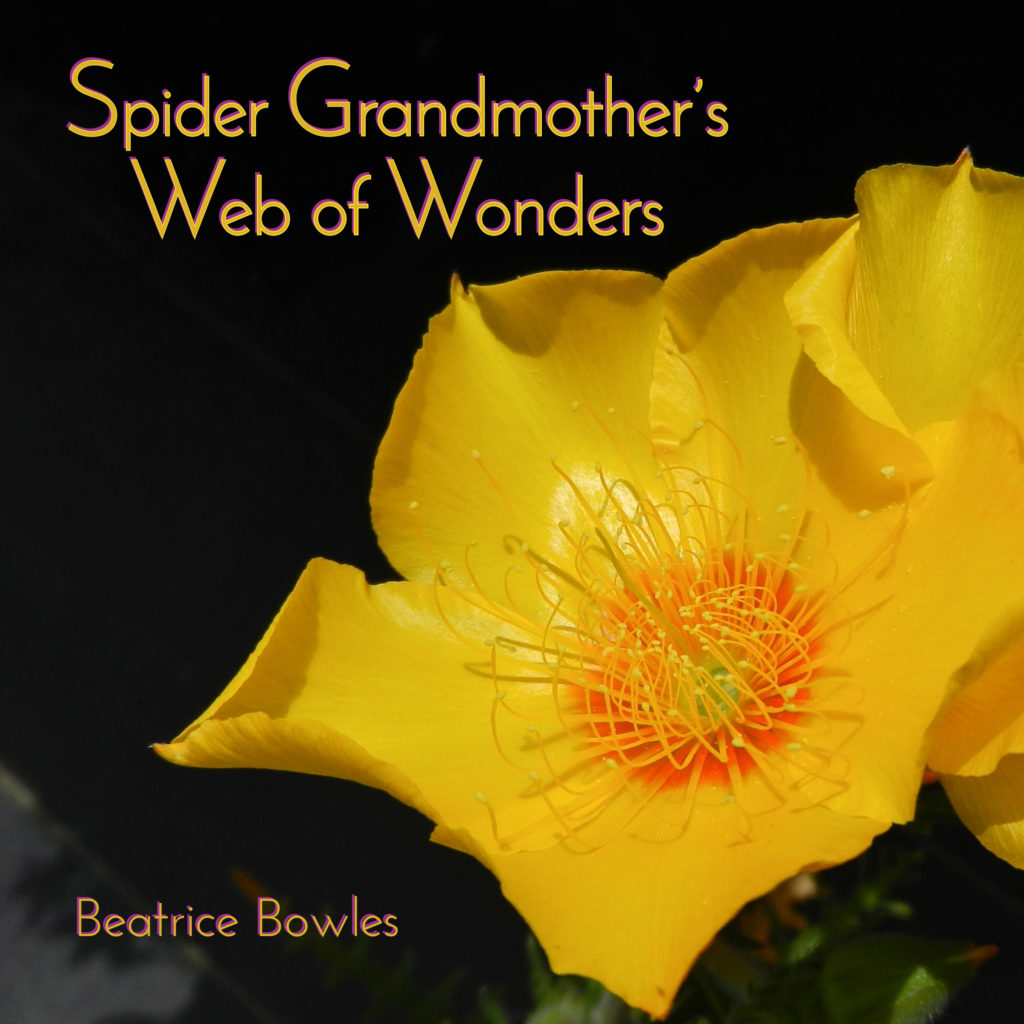 In these lively wonder tales from around the world, readers and listeners young and old will meet intrepid youngsters, bullies big and small, three magical spiders and a silly one, and find intriguing answers to some enduring mysteries:
Spider Secrets: Stories of Spiders
A Harmony Hill storybook illustrated with woodcuts by Philip Kuznicki.
Five lively traditional tales starring wise, witty, and sometimes silly spiders. Sharon Gamson Danks
Founder/CEO, Green Schoolyards America
"Are you looking for ways to connect your children to nature? My colleague, Beatrice Bowles, has a wonderful new storybook, 'Spider Grandmother's Web of Wonders.' Her stories reveal secret connections between all cultures and all creatures. Spiders and other magical creatures bring old wisdom to life and spark young imaginations." Adam Zappa
Teacher, La Scuola School, San Francisco, CA
"One of the loveliest qualities that Beatrice brings to our classroom is an understanding of different traditions though the stories she spins and weaves together. Beatrice is master of her craft. We would have her every week, if we could." Dixie Sheridan
Powerhouse Theatre, Vassar College NY
"Beatrice's stories are lively, witty, and chock full of fun!"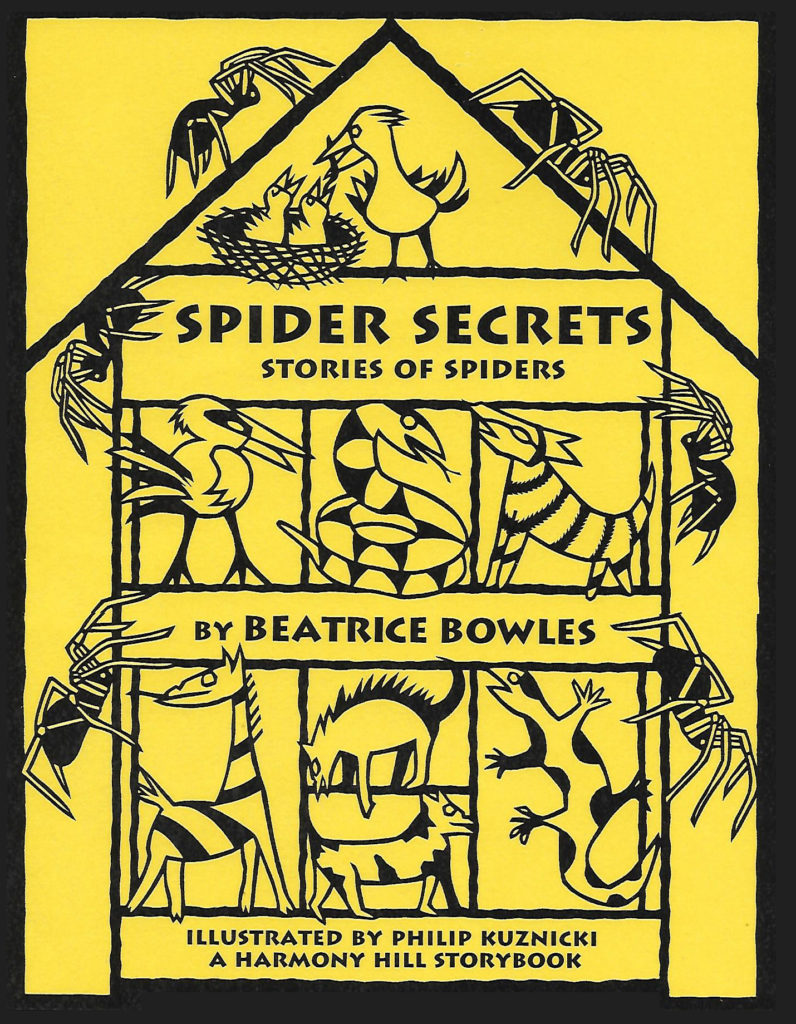 A Ring of Riddles:
My YA eco-occult thrillers
Greta Grabhorn may appear to be a timid, bookish eighth grader, but she is not. Even Barbe-Tort, the evilest man in France, proves no match for her startling powers. When Greta inherits an ornate ring from Gaya, her French-American grandmother, she inherits a mission far beyond her reach, as well. Possession of the ring sets her on a collision course with the villainous Barbe-Tort-and Gaya's assassin, too, Greta suspects.The ring is key to an ambitious plan to defend what is left of nature, but the plan itself remains a mystery. During a school trip to Paris, Greta's quirky French aunt gives her a crystal which accelerates the powers of the ring in the nick of time. For that night, Greta is put to the test in the streets of Paris. On skates! But is that Barbe-Tort she spots in the crowd?
(Novel in Progress) Peggy Knickerbocker
Winner of the 2017 James Beard Award & Author of "Simple Soirees and Olive Oil: From Tree to Table"
"I read your enchanting A RING OF RIDDLES this afternoon. I am totally dazzled. It's vivid, endearing, smart, filled with suspense and great characters. A lovely read. I liked the way you sketched out the omelette, the croque monsieur, the frisee salad, and the creme brûlée -I could crack that sugar shell this moment. You have nailed it. Is it YA for 13 year olds-or for 69 year olds such as I? You've done a noble job. It will be a best seller. I am in such a happy mood after reading your book. It's priceless, just like the ring." Louella Bryant
Author of "The Black Bonnet"
"A RING OF RIDDLES by the vibrant author Beatrice Bowles will shoot colorful sparks into the imaginations of young readers. The story pulses with magic, movie stars, mayhem, and an exotically wonderful godmother, Tia, who mentors our young heroine Greta as she discovers her own gifts. In the streets and a night circus in Paris, and on a private island in Brittany, Greta battles villains to defend her grandmother's ring and her own destiny. As she searches out allies, Greta finds the greatest power of all lies within herself. A RING OF RIDDLES not only will entertain and delight but will empower bright young women to call upon their own ancestral strengths when they most need them. Alev Lytle Croutier
Author of "Harem: The World Behind the Veil" and "Leyla: The Black Tulip"
"A RING OF RIDDLES is the most enjoyable YA book I have ever read! It's a delight to find a young girl protagonist who is intelligent, self-driven, and enchanting (Greta is not a girlie-girl under any circumstances!) Her quest to take on one of the greatest evils that threaten the world should inspire girls everywhere. The story is also full of fun and magic that transports us into realms of fantasy. It's irresistible!" Jane Gillette
Author of "The Best Gardens Ever Written", "The Trail of the Demon" and other stories
"It seems to me you have a winner. I am a big fan of the goddesses-replaced-by-warriors version of mythology (especially from Robert Graves) and so I particularly enjoyed how well you articulated that point. Georgina Ritchie
Healer, Corporate and Personal Communications Expert
"What an exciting, lively book not just for young adults but anyone who loves to read. A Ring of Riddles, by writer/storyteller Beatrice Bowles, leads us on a mythical coming-of-age adventure in the magical city of Paris, where history, art, and food flavor the drama. On roller skates in the streets at night, young Greta claims a mission for all of us, to preserve the planet and save our world." Terence Clarke
Author of 'The Notorious Dream of Jesús Lázaro', 'New York', and 'The Splendod City.'
"A RING OF RIDDLES is a young-adult novel of great distinction that is filled with humor and remarkable derring-do. Not to be missed!" Elaine Sirois-Lucha
Designer
"I just finished reading your delightful book, A RING OF RIDDLES. As an adult, I was enthralled; I can imagine how magical it is to a younger reader!! The story offers a potpourri of exotic places, metaphysics, mythology, magic, fashion and feminism. So much fun!! This would make a marvelous movie, Bea, a blockbuster for the entire family."