Audio Storybooks for Children
Composer and Musician Sara Buchanan MacLean
I am a composer and pianist. I create music inspired by stories, poetry and nature. Besides the musical settings I create for Beatrice Bowles' stories, I write chamber music, and compose song settings, choral music and works for orchestra and chamber ensembles. I'm currently fulfilling a commission for a piano duo and composing an orchestra piece. My piano pieces, Psyche and Eros and Four Fairy Tales have been performed by pianist Denine LeBlanc throughout the U.S. and in Europe. My settings of Emily Dickinson's poetry, The Drop that Wrestles in the Sea, for Flute, Mezzo Soprano and Piano, was performed last year at the Kentucky Flute Society's convention.
I enjoy sharing my musical skills with children. I have composed especially for them. My audience-interactive chamber works, The Spring Baskets and Little Creek, use story, songs and movement to introduce young audiences to orchestral instruments. I teach piano and composition to students of all ages, as well. Watching them learn and grow musically is truly rewarding.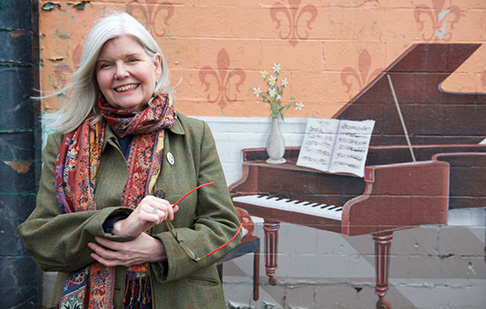 John Krich Father, Writer
Amita listens to Heaven's A Garden in the Heart every morning on the way to school.She already knows "Monkey King" and "The Perilous Pomegranate" by heart!
Samantha Cahill Lyons Acupuncturist
You put into voice what all of us really want. You put me right back into the marvelous place of wonder and hope. Thank you so much.
Sharon Gamson Danks Children and Nature Network
My favorites are the spider stories, and I love all of the different voices/characters you create as you tell them on the CDs. Lovely. I will share them with my nephews who are the perfect age.
Heidi Nickel Michael Artist/Entrepreneur.
Beatrice's magical tales skillfully convey that nature's divinity and truth transcend all time and cultures. This magical walk through stories worldwide reminds us that we are bound together as one race in this diverse world. This gem of a book is a must have for every reader, young and old.
The Value of Audio Storybooks​
1. Development of visual imagination: Audiobooks bring words and books alive! In listening to stories, children hear an expressive flow of words that moves them to imagine characters, settings, and actions.
2. Development of vocal expression: The voice of a good storyteller will enchant and motivate children to emulate the musical quality of well-spoken words as they listen.
3. Development of delight in narrative power: Storytellers on tape often create special voices and sound effects to heighten the drama and fun of the story and stir children's own vocal and verbal creativity as they grow.
4. Development of pleasure in listening and understanding how narrative works. Hearing a variety of audiobooks of stories opens children's minds to the delights of different styles of telling and the many styles of story structure.
5. Development of cultural awareness: Audiobooks of stories from around the world can introduce children to likenesses among cultures such as the universal value of kindness, of empathy with nature, and the importance of using your wits.
More about the benefits of Audiobooks here.
"My 8 year old and her friends listened over and over to Beatrice's stories on our ride from Tahoe. They even refused to get out of the car until the last story ended… again! Storytelling! Voice, intonation, rhythm, all combine to perfection on her CDs. Dramatic, mischievous, funny, sweet, delicate, joyful, Beatrice has all these voices within her! Each story's musical setting adds charm and magic to the drama.
After the long trip I interviewed the three girls:
Q: What do you like about this CD?
A: My favorite part is the voice of monkey king!
A: I like what the stories tell you about nature and the seasons.
A: Bea has a very clear voice and she can make so many different voices, too.
A: I loved everything there was nothing I did not like!
Q: Any recommendations for Beatrice?
A: MORE STORIES! I cannot wait for the next CD!"
Sonia Fava – Owner of Casa Hispana (Spanish Language School)